Sunblinded Trilogy
Available individually and as a box set - see links below

SUNBLINDED 1: RUNNING OUT OF SPACE
Elizabeth Wright has yearned to serve on the space merchant ship Shooting Star for as long as she can remember – until one rash act changes everything…
I can't recall whose idea it was. Just that me and my shipmates were sick of wading through yet another unjust punishment detail. So we decide to take ourselves off on a short jaunt to the lower reaches of Space Station Hawking to prove that fertile English girls can also deal with danger.
The consequences of that single expedition change the lives of all four of us, as well as that of the stranger who steps in to save us down in lawless Basement Level. Now I have more excitement and danger than I can handle, while confronting lethal shipboard politics, kidnapping, betrayal. And murder.


SUNBLINDED 2: DYING FOR SPACE
Cadet Officer Elizabeth Wright just wants to make her father proud, while the mercenary warlord is looking for her to replace his dead family…
I finally get the opportunity to become a serving officer and fulfil my childhood dream, as well as get to know my biological father, General Norman. And when I first clap eyes on Restormel, the HQ of my father's space mercenary outfit, it's the most beautiful building I've ever seen.
But appearances can be deceptive. There are dark secrets hidden in the twisting corridors and blood-soaked cells beneath the training grounds and banqueting rooms. Secrets that seep out. Secrets that demand fresh victims, because whatever else happens, they can't be allowed to see the light of day...
SUNBLINDED 3: BREATHING SPACE
Lizzy Wright is now Chief of the largest mercenary force in Sector Two – a job she can't walk away from without risking a bullet in her back…
It's not even as if she's qualified for the job of Leader of the Peace and Prosperity Corps – more a case of being in the wrong place at the wrong time with the wrong surname, and now she feels the job is twisting her into someone she no longer likes.
The situation comes to a head when her psychotic brother – busy expanding his piracy operations – causes chaos throughout Sector Two. Forced to go undercover in a disguise which bites back, and in the company of a speed-enhanced oddball with a price on his head, Lizzie must contend with corruption, betrayal, and murder. Not to mention highly territorial aliens with their own agenda...
The only other thing is that I've now got some universal links so that wherever folks live in the world - this goes straight to their own regional Amazon store, so could you add each of these links to the book titles? I kept meaning to ask you to do this - and kept forgetting...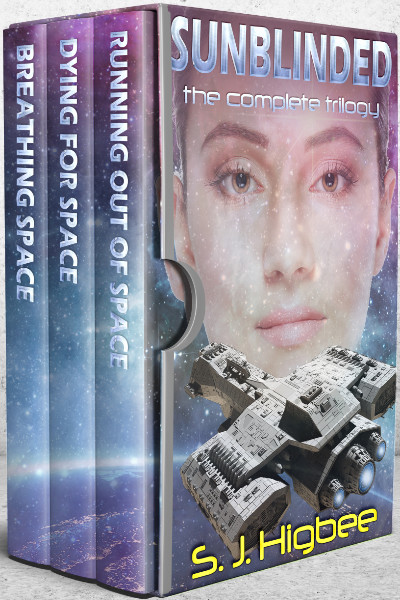 Sunblinded Trilogy Box Set
The Sunblinded Trilogy above is now available as a box set through amazon too.